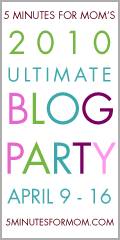 Okay, okay.. I know I'm late. But really since the party lasts for a whole week I'm like only 15 minutes late which we all know is fashionable right?!?
You know I'm right.
First off if your visiting from the Ultimate Blog Party Linky THANK YOU!! I hope you enjoy your visit and it makes you want to come back over and over and over and over again.. 🙂
So, let's see, if you are just one of my loyal readers I want to tell you all to go visit Janice and Susan over at 5 Minutes for Mom who are our fabulous hosts for this rockin' shindig. If you aren't familiar with Janice and Susan they are twinies.. Yep, I'm serious! They are super hip mom's who love giving back to other moms. It's pretty much as simple as that.
The purpose of the Ultimate Blog Party is to be introduced to some fabulous bloggers. And perhaps if you're here it's because, well you like me.. you REALLY like me.. Or were just uber curious about this person who calls herself Mad Hatter Mom.
You could take the easy way out and read my "About" page OR you could take a little looky loo at this here video I put together. 🙂
Now, I want to apologize for any ears that started bleeding, dogs that started howling, or glasses that shattered while in the immediate vicinity as you were watching. 😉
The other great thing about the Ultimate Blog Party is there are PRIZES!!
So, or the prizes I'm allowed to pick from my top 3 choices are:
Win a $150 shopping spree at Pedal Cars and Retro Collectibles.
Hand Stamped Personalized Necklace valued at $48 The Double Stacked A Lot Of Love.
A $50 online gift certificate redeemable at Costumes Inc.
If I am selected and those choices are already taken then I would be more than happy with..
US76, US105, US23, US112, US35, US18, USC13, USC43
Ok, so that's all folks! Have fun storming the castle, I mean checking out other blogs! 🙂