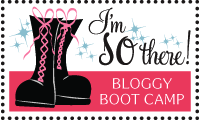 I am so super excited about going to Bloggy Boot Camp in Seattle next month!
Part of my excitement comes from the fact that this is the first conference that has been within driving distance for me. At only 3 hours away there was absolutely no way I was going to pass up the chance to meet up with some of my bloggy friends. Plus, this is the epitome of intimate. There will only be 125 attendee's so that means I can really get to know people which any blogger knows is what makes social media so wonderful.
Well, I purchased my ticket as soon as they became available which means I got a rockin' deal :). But as it just so happens I'm lucky enough to belong to this great little organization called Collective Bias, heard of them? 😉
Collective Bias is also a sponsor of Bloggy Boot Camp and they were gracious enough to sponsor me for the conference. *Yet another reason to be excited about going!*
Anyway, there I was left with a ticket I purchased but that I wasn't going to use. I was contemplating selling it at the same rate that I paid for it, but then I realized that what I really wanted to do was give the ticket away to someone who may not have had the opportunity to go otherwise, or just someone who wants a free ticket to help out with funds.
Either way, I have a ticket that is just waiting to have your name on it.
So, if you don't have any plans for June 4th and would like to come hang out with some amazing women and brands, not to mention learn all kinds of wonderful new things to take you blog to the next level, then come on and enter!
RULES FOR ENTRY (mandatory entry):
It's simple. Leave a comment telling me why you want to attend Bloggy Boot Camp Seattle. The winner will be chosen at random.
GIVEAWAY ENDS MAY 23RD MIDNIGHT PST. WINNER WILL BE ANNOUNCED ON THE 24TH.
Now, I will be doing some work while I'm enjoying the conference but that doesn't mean you can ignore me! My other requirement is that if you win the ticket you have to come up and introduce yourself if we haven't already met.
Okay, so I'm not going to really make you do that, but it would be great if you did!
See ya in Seattle!!